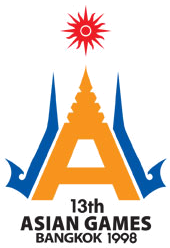 Samsung Ad for the
Bangkok Asian Games
The Challenge
Taking a concept that was already fixed and adapting the copy to suit the image, while keeping the voice of Samsung as a sponsor of the Bangkok Asian Games in 1998 and a global brand coming of age in mind and overcoming language barriers with the client early in my career in the Korean market. 
The Solution
For any client to be happy, a copywriter must convince them of the value of what they are pitching. Due to constraints of limited contact and difficult communication, however I was forced to learn the hard way that client pushback is sometimes necessary, and more so that we cannot win every fight.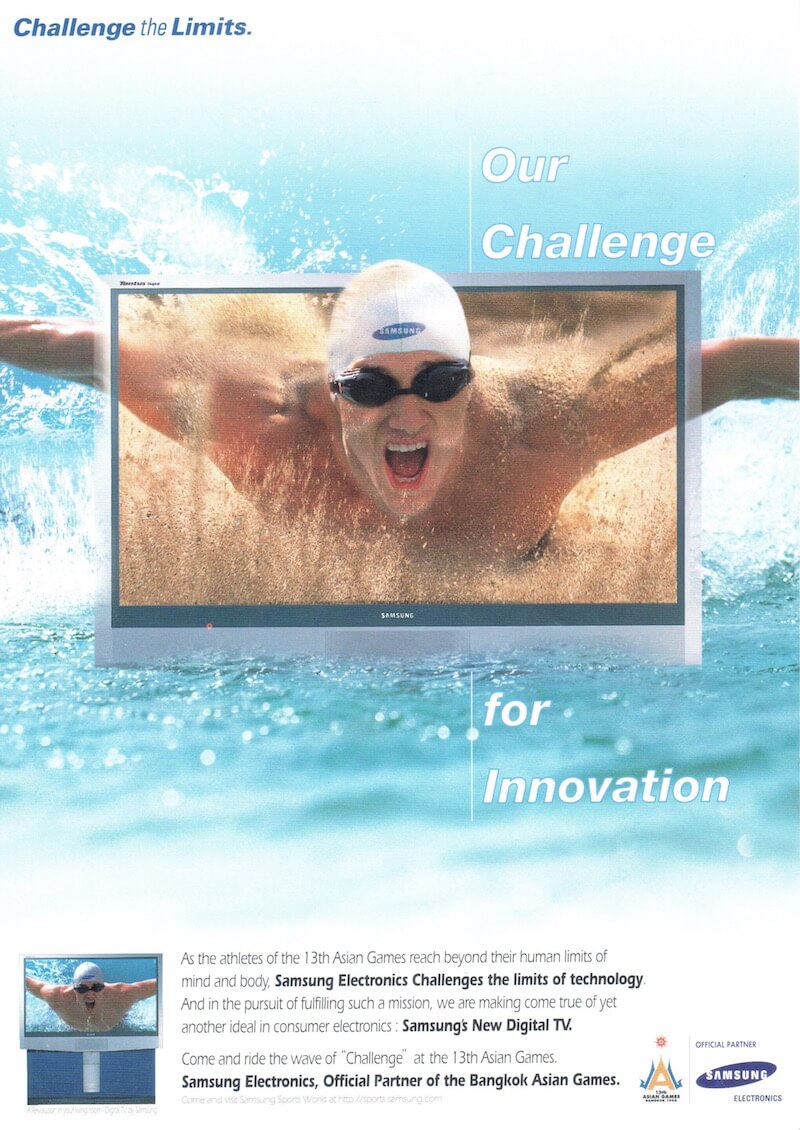 Bangkok Asian Games - Samsung Advertisement
 "Tap into your inner Technology"
Becoming a Sponsor for the Bangkok Asian Games in 1998 was a big deal for the (re)branding of Samsung, signifying it's advancement as a trusted provider of quality technology. So when my friends at Cheil Communications, the marketing arm of Samsung Electronics, came to me to create the copy for it's Bangkok Asian Games print campaign, I decided to show the correlation between the athletes who bring their best, to the higher standards set by Samsung. 
Though the visual concept was already fixed (an amalgamation of a swimmer mid-stroke in sand within the display and in water without), Samsung needed copy that would communicate the elevated position of the new Samsung.
Athletes rise to the top in thier fields in much the same way, tapping into their inner strength, so for the head copy, I chose, "Tap into your inner Technology." 
Sadly, through limited contact with the decision makers, who didn't understand the idiom I was referencing, and a failure on my part to find an avenue of communication that would at the same time explain the reference and provide an opportunity to push back, the copy was scrapped in place of the default for Samsung communications at the time which relied on direct translation of Korean expressions was printed in its place – including the sub-copy which ended up convoluted and full of incoherent grammar.
Shortly thereafter, I implemented appropriate feedback loops with clients and final copy checks, though as I would find out, some clients would change the copy at the last minute without the benefit of a native-speaking copywriter. 
A hard lesson I keep close to remind me of where I came from and how I got here. (Oh, and yes, that was me in the image.)
~ While I often talk about all the triumphs I've had in the copywriting over the years, talking about my biggest failures is something that I believe readers will find useful and instructional. And frankly, it is cleansing for me as well.