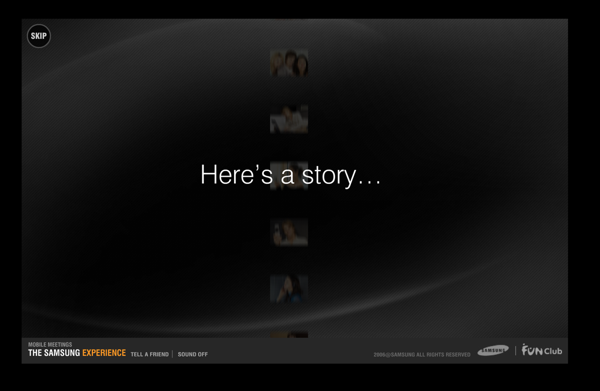 Samsung Experience Microsite
The Challenge
Samsung needed a fun storyline for a site that touched people's playful sensibilities while introducing all the fabulous features of their newest phone on the market. They needed in an interactive microsite that could adapt to each person's story and their own tastes, while maintaining the storyline. 
The Solution
We created a group of five friends that loved what our customers loved, that heard their needs and reflected them back while adding a sense of adventure, a flash of fun, and the constant comfort of camaraderie. 
The

Friends, the Writer, the Dancer, the Cook and the Lovers.
Here's a story…
of games and glory,

of fun and friendship,

of creating a vision,

of the love of movement,

of messages,

of music on the go

of several star-crossed mobile users.

Five steps to the story, five steps to glory…
Samsung Experience Microsite
Background
When Samsung approached The Wrier's Ink looking for a campaign that would do more than showcase their product offerings. They wanted to weave their technology into the fabric of everyday life, showing consumers how Samsung could transform mundane activities into extraordinary experiences. The vision was to create an emotional connection transcending the physical aspects of their mobile devices and positioning Samsung as a companion for life's special moments.
Strategy
Our strategy was to develop a series of video narratives, each one focusing on a key feature of Samsung phones and demonstrating their applicability in real-life scenarios. The narratives ranged from a friendly mobile gaming competition to an overseas adventure, a dance audition, a romantic date, and a heart-warming proposal.
Execution
The video series, titled "The Samsung Experience – Mobile Meetings" was designed to immerse viewers in relatable situations. It amplified the role of Samsung's technologies as enablers – allowing them to feel more connected, to explore their passions, and to express their emotions.
Results
The campaign exceeded Samsung's expectations on multiple fronts.
Emotional Resonance: By situating Samsung's technology in the heart of relatable life events, the campaign forged an emotional bond between the brand and its audience. It showcased how Samsung's devices weren't just products, but companions on life's journey. This resulted in a significant uptick in brand affinity metrics.
Customer Engagement: The series sparked interactive dialogues amongst viewers, leading to increased user engagement across Samsung's digital platforms. Users started sharing their own stories of how Samsung's technology enriched their lives, creating a ripple effect of organic testimonials.
Brand Recall: The campaign boosted brand recall significantly, as the unique narratives stuck in viewers' minds. The market research post-campaign revealed that the audience could clearly recall and associate Samsung's mobile features with the narratives, thereby demonstrating the effectiveness of the storytelling approach.
Sales Impact: There was a noted increase in Samsung mobile sales post-campaign, which can be partially attributed to the positive audience response. Consumers began to perceive Samsung not just as a tech company, but a brand that understood their needs and lifestyles. Conclusion
This campaign underscored the power of weaving technology with narrative storytelling. It allowed Samsung to connect with its target audience on a more personal level, bridging the gap between consumers and technology. By understanding the consumer's world, Samsung was able to paint a picture of how its mobile features could fit seamlessly into their lives, thereby cementing the brand's position as a 'life companion.'
The

Friends, the Writer, the Dancer, the Cook and the Lovers.
sfgaå