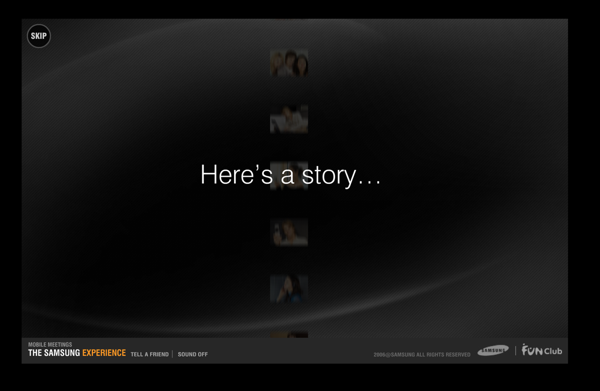 Samsung Experience Microsite
The Challenge
Samsung needed a fun storyline for a site that touched people's playful sensibilities while introducing all the fabulous features of their newest phone on the market. They needed in an interactive microsite that could adapt to each person's story and their own tastes, while maintaining the storyline. 
The Solution
We created a group of five friends that loved what our customers loved, that heard their needs and reflected them back while adding a sense of adventure, a flash of fun, and the constant comfort of camaraderie. 
Samsung Experience Microsite
The Friends, the Writer, the Dancer, the Cook and the Lovers.
Here's a story…
of games and glory,

of fun and friendship,

of creating a vision,

of the love of movement,

of messages,

of music on the go

of several star-crossed mobile users.

Five steps to the story, five steps to glory.
While this effort took quite a bit of back and forth with the design team as to what they could and couldn't accomplish, it was fun to work with a team and the client to create a truly story oriented product purely designed to wow. 
The end product is exactly what the client asked for and they were thrilled with the overall design and the writing.